The former Eta figure has been in London and Brussels with a new political message, but to many he still has blood on his hands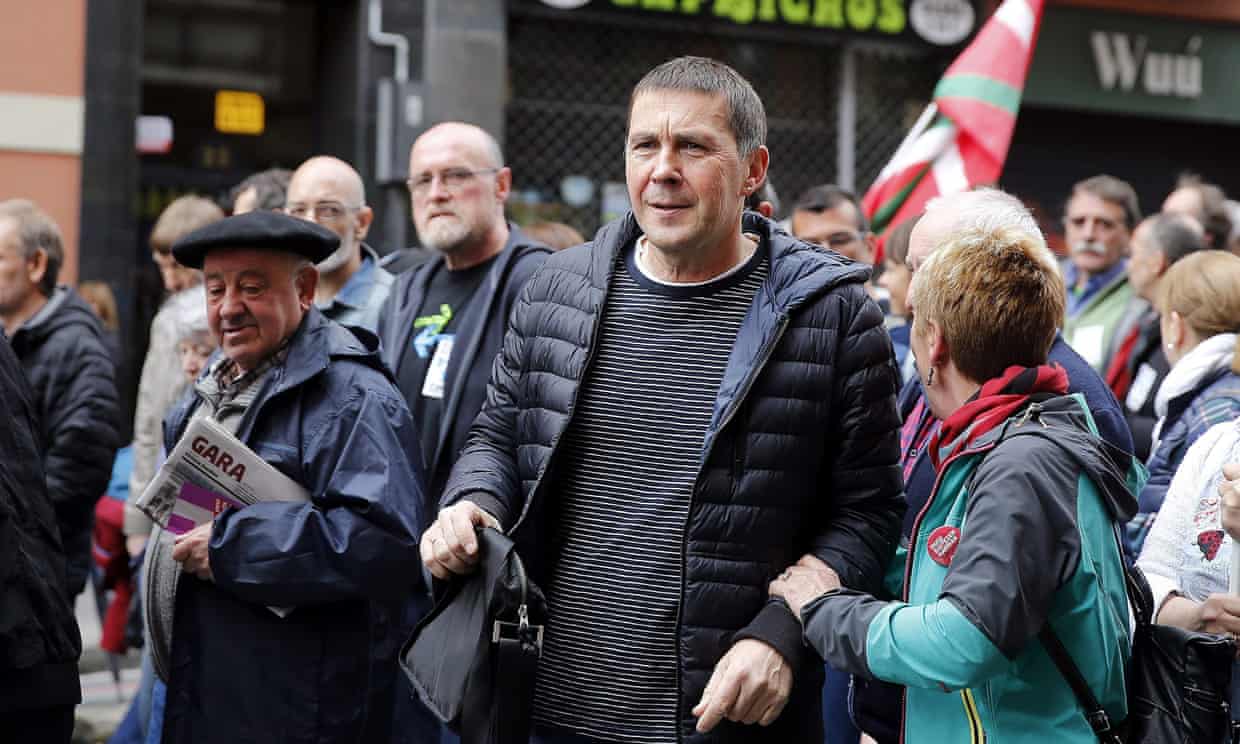 Its contents were neither unfamiliar nor unexpected. "Onwards!" Otegi exhorted them. "We're going to win! We won't stop until we have independence and socialism!"
His visit to London this week was a slightly more staid affair. The cheering crowds were replaced by a gaggle of Spanish and Basque journalists who trailed him through Westminster on a cold spring morning as the odd holidaying or expatriate Basque did a double-take before asking for a selfie.
Otegi was happy to oblige but, as the sober suit and the press officers a couple of paces behind attested, this was business.
Since serving his sentence for trying to resurrect Batasuna, the banned political party that was seen as Eta's political wing, the 57-year-old has been making up for lost time.
The past few days have seen him travelling around Europe on a mission to drum up international support for Basque independence in his role as secretary general of the leftwing Basque separatist party Sortu.
"[We want] to tell people what our plans are, what our worries are, and to relaunch the peace process that the Spanish state is trying to keep a permanent block on," he told the Guardian.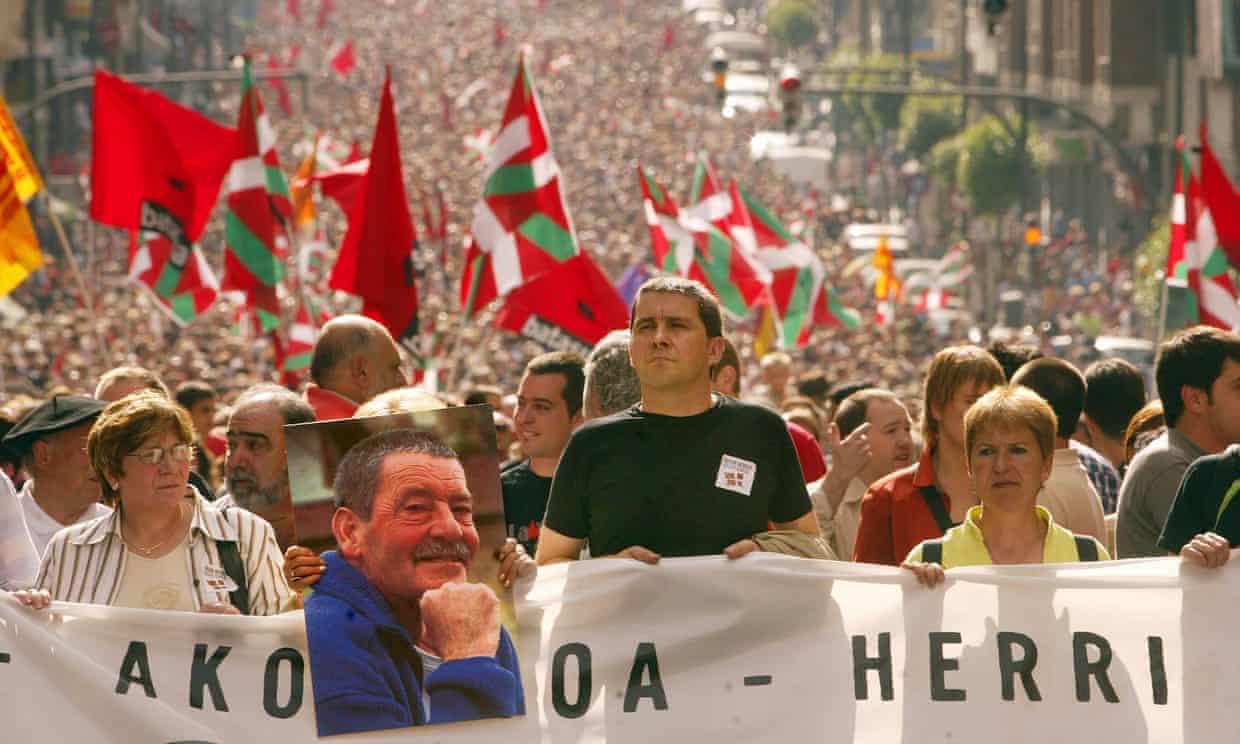 "We basically believe that the last six years that I've been in prison have been a deliberate, political effort to punish us for contributing to the disappearance of the violence."
Otegi, who joined Eta as a teenager and was later imprisoned for kidnapping, is credited with playing a pivotal role in persuading the group to lay down its weapons and pursue independence by peaceful means.
Among those who had called for his release were Archbishop Desmond Tutu, the former Uruguayan president José Mujica and the Sinn Féin leader Gerry Adams, to whom Otegi has been compared for his peacebuilding efforts. He joined Adams in Dublin last weekend for the party's annual conference and to mark the centenary of the Easter Rising.
On Monday, Otegi renewed his acquaintance with Jonathan Powell, who was Tony Blair's chief of staff during the Good Friday agreement negotiations, and addressed the all-party parliamentary group on conflict issues. From there it was on to Brussels as guest of a grouping of leftwing parties that includes Podemos and Syriza.
To Spain's conservative People's party (PP), however, and many of the families of the 829 people Eta murdered over five decades, he remains a figure of undiluted hate – a convicted terrorist with a suit and tie but without an ounce of real contrition.
Spain's acting prime minister, Mariano Rajoy, has been bitterly critical of both Otegi and those who have given him a platform to "show off and defend those positions that did so much damage to so many people in our country for so long".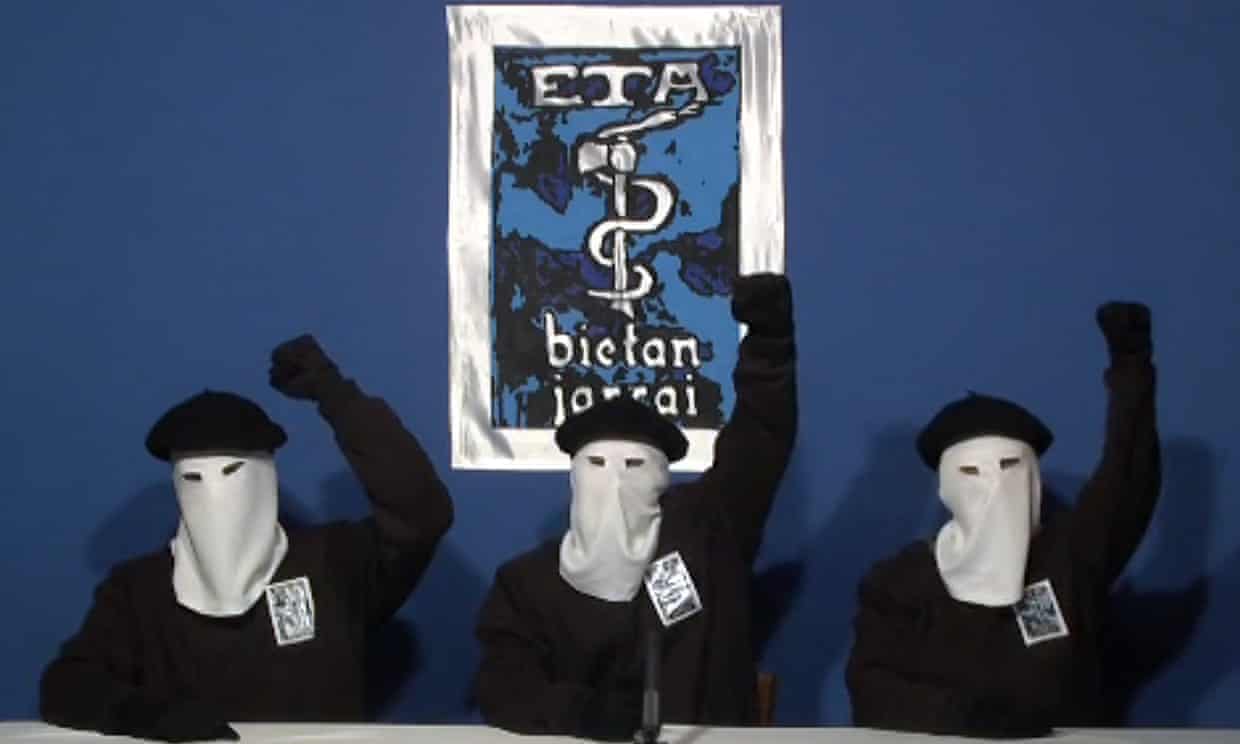 Rajoy said the only words he wanted to hear from Otegi's lips in Brussels were a condemnation of Eta's violence and a plea to its victims for forgiveness.
Otegi dismisses such rhetoric as part of an attempt to keep Spain on psychological war footing for a conflict that ended five years ago.
"It seems to me that for many years, Eta's violence provided a way for the Spanish state to cover up all the country's problems," he said. "I am convinced that there are certain sectors within the Spanish state that wouldn't mind some low-level violence that would allow them to find an enemy and cover up all the problems: them and us."
Had Eta not renounced the armed struggle in 2011, he said, the political landscape might have looked very different now. Many of the corruption scandals currently squeezing the PP might never have come to light and the collapse of the traditional two-party model that has brought Spain to an enduring political impasse might never have occurred, he said.
All that, together with the growing clamour for Catalan independence and the emergence of Podemos – which won the most votes in the Basque country in December's inconclusive election – has "shaken up the electoral map" as never before, he added.
As the country staggers towards fresh elections at the end of June, Otegi says it is time to let go of the poisonous politics of the past. On Monday, Powell, who now runs a conflict resolution NGO, praised Otegi's contribution to the Basque peace process and urged all those involved to address the lingering consequences of the violence.
"We have plenty of other things to worry about in Europe rather than going back to other conflicts from the past," Powell said. "And I think that opportunity is before us."
Otegi views himself as a political prisoner, and his mother died two years ago while he was in Logroño jail, but he says he resolved to leave his cell without any bitterness.
"I've come to the conclusion that living in hate is not a good way to live," he said. "I don't think anyone who's bitter or full of hate can be happy."
What about those who have been condemned to live in hate because their loved ones were murdered by Eta? Spain's Association of Victims of Terrorism said the Brussels visit showed "something is wrong in the European Union when a parliamentary group gives a voice to terrorists but not victims".
Does Otegi understand why many people don't want to listen to the political overtures of a man who, they believe, still has blood on his hands? His voice is calm and his reply measured.
"What message can I send people? First, that bitterness and revenge won't lead us anywhere new. I absolutely respect their pain and their position, and I can understand it in human terms, but the greatest contribution we can make together is to understand that there weren't victims on this side or that side. We have all been victims of a conflict that should never have happened, but which did happen."
Otegi may have decided to live without bitterness, but his exasperation with what he describes as the "illogical and irresponsible" stance of the Spanish state is abundantly clear. He claims there is a good reason the disarmament of Eta has turned out to be such a tortuous and protracted affair.
"If Eta still has its arsenal, they can say nothing's changed," he said. "But the problem isn't just that they won't talk to Eta or to us. They won't talk to the Catalans. They just won't talk to anybody.
"If we're dangerous terrorists with bloodstained hands, if we're total savages with no decent proposals at all, the Spanish government should be delighted that we're crisscrossing the planet so the international community can see that they're right."
Today, Otegi recognises that he and others may have been better off adopting a more Catalan approach to independence.
"They have a far more advanced independence process. I would say it's a matter of political culture and cultural DNA. I don't know if we Basques are more impulsive, more passionate or whether maybe our country has suffered so much that we've sometimes be driven by passion rather than reason."
He is, however, convinced that both Catalonia and the Basque country will one day become fully independent countries. With the former a far less remote prospect, won't Otegi be an old man when his decades-old campaign finally bears fruit?
He laughs. "I'm already an old man."